Top Things to Consider While Hiring Amazon Appeal Services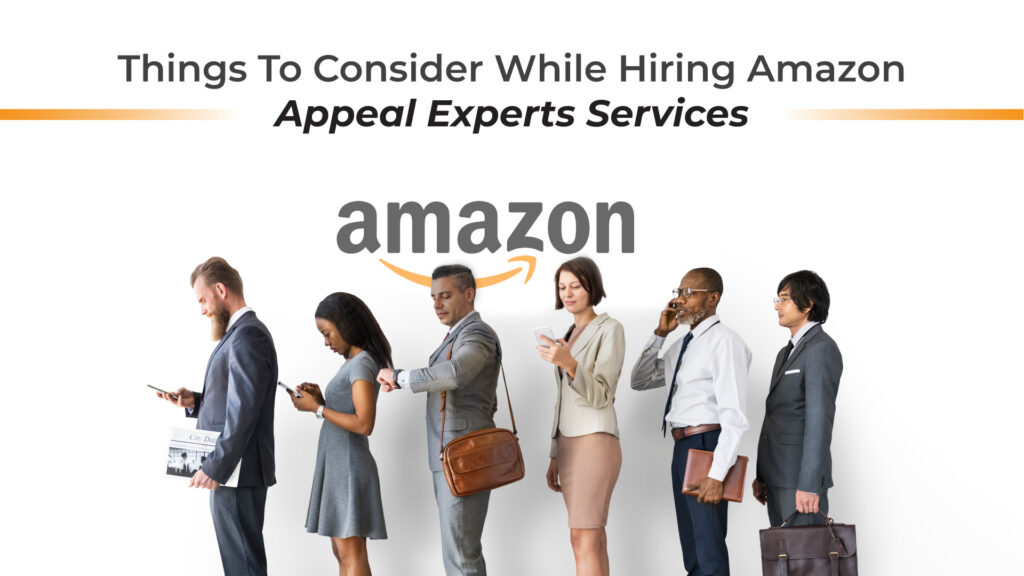 Finding an amazon appeal service is not easy, as the right agency can help you reinstate the account without much delay or hurdles. Finding the best amazon appeal service can be a daunting task as many companies are available in the market. If you are somebody who is looking for amazon appeal experts this article is for you. We have highlighted some key things to consider while choosing the agency.
Why Hire Amazon Appeal Services?
There are multiple reasons for which you need to hire amazon appeal services. Following are just some of them:
Improves Account Health
One of the prime reasons to hire appeal services is to improve account health. There are multiple reasons for which the seller's account can be suspended. Experienced appeal service consultancy can tell about the areas that need improvement regarding product listing, seller's information, and much more.
Help to resolve the dispute with Amazon
Appeal service consultancy can offer you to resolve your disputes with Amazon. They are the right people to guide you through the problem. Their help includes:
Assisting you with product listings.
Better communication strategy with Amazon.
Filling seller's information.
Shipping.
Customer communication.
Other aspects of selling on Amazon.
Resolving disputes with Amazon can be a time consuming and difficult process, but with an appeal service guide, one can sail through it smoothly.
Robust Business Strategy
An experienced appeal service understands the Amazon platform inside out, and that is why they are the best people to robust your business strategy. They can offer business strategies to improve the overall business, shipping logistics, marketing strategy, communication, product listings, and much more. All you need is to hire experience appeal services like us. Call us today to know more about the amazon business.
Things to Consider while Hiring Amazon Appeal Experts Services:
Cost and Service Offerings
Amazon account suspension is one of the worst nightmares for any Amazon seller. There are various factors for which your account can be suspended. Your account can be suspended for many reasons, especially with listings. While hiring an appeal service, ensure to consider cost and their services. Charges of these companies vary from one to another. You may need their help for different situations like:
Poor seller performance
Brand protection
Account creation failure
IP complaints resolution
Violation of Amazon policies
Recovery of damages
Know the People You Work with
It is very important to know the people who will help reinstate your amazon seller's account. While looking for the right company, remember that several years of experience are not always equivalent to reinstating experience. While vetting the process, ensure to ask the consultant many questions. Don't be afraid to work with the new consultant as they might offer new perspectives and reasoning that the old one might not be able to see.
Some Important Questions to Ask Appeal Service Provider:
How long have you had experience as an Amazon help consultant?
Do you have any references for your past clients?
Do you have any prior experience with Amazon SEO tools?
How much are you familiar with SEO keyword research?
What qualifies you as an Amazon help consultant?
What are the reasons you have helped clients reinstate old accounts?
What is your experience in marketing?
How can you help me with this issue?
Can you connect with some companies who have hired your appeal services?
Customer Reviews
In order to believe whatever promises or things they are saying are true or not, asking for customer reviews is very important. There are instances where agencies may offer services at very low charges but have bad customer records, and there are agencies who might have large high charges but still offer substandard services. To understand the ground level reality, customer reviews are very important.
Not Necessary to Choose Local Company
Five years ago, if a person had to choose appeal services, then chances are that he might have gone for the local company near me. Given that the only means of communication is through writing letters and telephoning them through a landline, geography should not be your limit. Based on your preference, you can choose any.
Avoid Exaggerated Promises
If your account has been suspended recently, you're probably frantic trying to get it back. In order to get the account back, don't rush to choose any random agencies. Don't be lured by big promises, as they cannot guarantee to reinstate the account with a click. A rush decision is not a good idea; instead, go for cooperative, collaborative, and transparent consultancy.
Always remember that no agency can guarantee to reinstate the account even if the agency has extensive years of experience; they might know every process involved in it, but stating about guarantee is a wrong claim.
Conclusion
Working with the amazon appeal service is a great way to protect your Amazon account suspension. AMZ Sidekick offers the best Amazon appeal service at an affordable rate. We have a team with extensive years of experience in different fields like business administration, business analytics, technology, internet marketing, and many more, making us a viable choice.
FAQs
How long does it take to reinstate the amazon seller account?
Your account might be suspended for several reasons, and generally, Amazon takes around 12 to 48 hours to respond.
What if my Amazon appeal gets rejected?
Once your Amazon appeal is rejected, you can send the revised action plan. Although there are no limits to the number of times your appeal can be submitted, after several times, Amazon may start ignoring the mail. Instead of sending the same plan of action, again and again, send the revised plans to reinstate it.
Why did my amazon account get suspended?
There are several reasons for which your amazon account can be suspended. Poor performance, sales of restricted products, violation of policies, and using multiple seller accounts are some of the reasons for which your account gets suspended.